Sidesteppers are a series of animated dancing characters made in 2010. Each one shuffles across the floor, some move their heads, and are available in several different animals and characters.
List of Animals
Edit
Dog-"Who Let The Dogs Out?"
Bear (Birthday)-"Happy Birthday To You"
Frog-"Shake It"
Monkey (Boy)-"Calle Ocho (I Know You Want Me)"
Monkey (Girl)-"TiK Tok"
Dino (Boy)-"Low"
Dino (Girl)-"Calabria feat. Natasja"
Zebra-"Party Rock Anthem"
Party Rock Puppy-"Party Rock Anthem"
Workout Dog-"I'm sexy & I know it".
Christmas
Edit
Charlie Brown-"Linus & Lucy"
Snoopy-"Linus and Lucy"
Frosty-"Frosty the Snowman"
Bumble-"Holly Jolly Christmas"
Spongebob-"Jingle Bells" (instrumental)
Hello Kitty-"Jingle Bells" (instrumental)
Bear-"U Can't Touch This" (parody)
Sock Monkey (red version) - "Only Girl in the World"
Snowman - "Dance Again"
Reindeer - "Give Your Heart A Break"
Penguin - "Like a G6" (parody)
Camo Santa - "The 12 Days of Christmas" (parody)
Mr. Potato - "Do You Hear What I Hear"
Selfie Penguin - "Text Me Merry Christmas"
Robot Santa - "Santa Claus is Coming to Town"
Robot Snowman - "Sleigh Ride"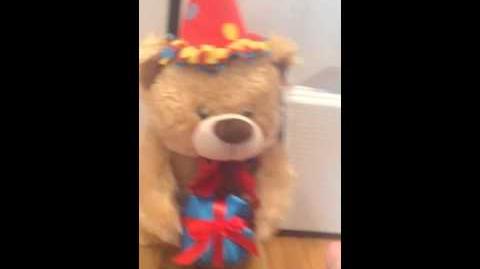 Ad blocker interference detected!
Wikia is a free-to-use site that makes money from advertising. We have a modified experience for viewers using ad blockers

Wikia is not accessible if you've made further modifications. Remove the custom ad blocker rule(s) and the page will load as expected.