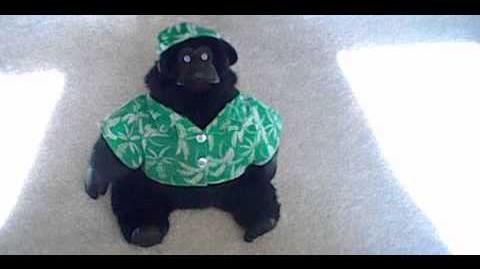 The singing gorillas were made in 1997 and 1998. Each one sings a different song and some of them have monkey noises edited into the songs. (Harry D. Ape & Rocky Gorilla)
Sitting Gorillas
Edit
Harry D. Ape (Both Versions) - Hot Hot Hot
Rocky the Rockin' Gorilla (Both Versions) - Great Balls of Fire
Jingle Jungle Jim - Jingle Bell Rock
NOTE: Some editions are sound activated, while others are activated by pressing the left hand.
Standing Gorillas
Edit
Sports Gorilla (College Teams) - Rock n' Roll (Part 2)
Sports Gorilla (Original) - Rock n' Roll (Part 2)
Tony Valentino - That's Amore
NOTE: The standing gorillas can be posed to sit as well.
Some Gemmy products re-use the recordings from Harry and Rocky. Their recordings feature the songs with monkey noises edited into them, so all the other toys that play the songs (e.g. Dancing Dragon) feature monkey noises in their songs. This is unfitting for some of them.
Ad blocker interference detected!
Wikia is a free-to-use site that makes money from advertising. We have a modified experience for viewers using ad blockers

Wikia is not accessible if you've made further modifications. Remove the custom ad blocker rule(s) and the page will load as expected.