The pine reindeer is made in 2004. It's a pine hedge shaped like a reindeer with a red bowtie on. The reindeer opens and closes its eyes and mouth while singing "It's the most wonderful time of the year" and "Happy Holidays".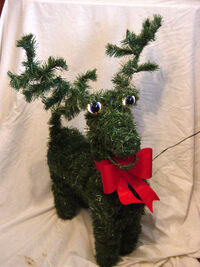 Ad blocker interference detected!
Wikia is a free-to-use site that makes money from advertising. We have a modified experience for viewers using ad blockers

Wikia is not accessible if you've made further modifications. Remove the custom ad blocker rule(s) and the page will load as expected.