The Spinning Bat is a very rare animated Halloween prop made in 2004. It's a black bat with green eyes, orange eyelids, and a tan stomach sitting on a branch. When activated via motion or push button, the bat moves his mouth, his eyes light up, flaps his wings, and spins on the branch while saying phrases and singing "You Spin me Right Round".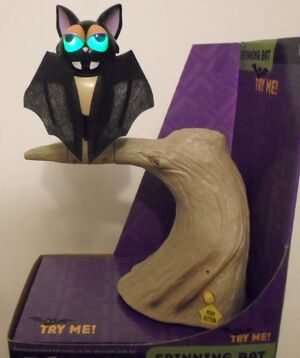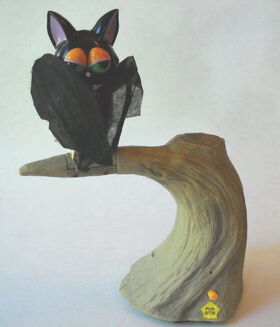 -"Huh? Oh it's you again, get some candy and fly away, fly fly!"
-"Ah, greetings and salutations. Looking for a bite, of candy?"
-"I don't really like being disturbed. But it is time for me to fly."
-"Please, let me sleep, can't you see i'm trying to get my beauty rest?"
Where this item was sold at
Edit
-Menards
-This item appears to be a Halloween variant of the Spinning Macaw. 
-This item has also been known as "Looping Bat" and "Fraidy Bat".
-There is an Airblown Inflatable bat that looks very identical to this character, only it has a purple stomach, not a tan one.
Ad blocker interference detected!
Wikia is a free-to-use site that makes money from advertising. We have a modified experience for viewers using ad blockers

Wikia is not accessible if you've made further modifications. Remove the custom ad blocker rule(s) and the page will load as expected.