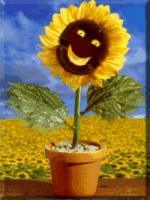 Sunny is an animated singing sunflower made in 1997 and is part of the "Hidden Nature" series. She moves her leaves back and forth and moves mouth and eyes while singing "You are my sunshine". She is one of the animatronics noted to "come to life", like 
Douglas Fir
 and 
Big Mouth Billy Bass
.
Product Description
Edit
"Bring a smile to your face and brighten up your day with Hidden Nature's Singing Sunflower! Discover flower power as this amazing sunflower serenades you with the song 'You Are My Sunshine'! The movement of the mouth and eyes are coordinated with the song, so that it looks like the flower is singing to you! The eyes light up as well!" - Gemmy Industries Corp.
This animatronic made a cameo in the Baby Einstein video "Baby Bach" with Cornelius the Chicken
This animatronic is visually similar to Douglas Fir

It also has the same animation technology as Douglas Fir

She has an identical twin named: Willis the Singing Wildflower who sings "Wild thing!"
She also has another twin who is not so identical called The Singing Flower who sings "I can see clearly now!"
In "My Little Pony: Friendship Is Magic" season 5 episode 13 "Do Princesses Dream of Magic Sheep", in Rainbow Dash's dream, there is a group of singing sunflowers that are singing a parody of the song "This old man". It is possible that said sunflowers could be a reference to Sunny, as seen here.
Ad blocker interference detected!
Wikia is a free-to-use site that makes money from advertising. We have a modified experience for viewers using ad blockers

Wikia is not accessible if you've made further modifications. Remove the custom ad blocker rule(s) and the page will load as expected.