Swingin' Skelly (a.k.a Zoot Suit Skeleton) is an animated Halloween decoration made in 2004 by Gemmy Industries. He wears a red and black zoot suit with white pinstripes, a white shirt, a tricolored tie, and a black pork pie hat. He swings his hips and spins a chain of red lighted skulls as he moves his mouth and talks while the song "Sing Sing Sing" plays. He has three skulls hanging from a wire in his hand in which he swings. Similar movements can be seen in the Gemmy snowflake spinning animatronic except he has a mouth movement and he does not raise his hat on and off of his head, instead his other hand is in his pocket.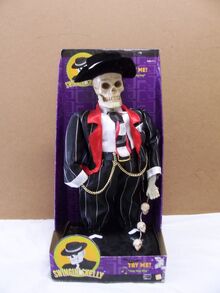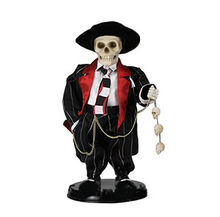 This item has a very similar mechanism to the Spinning Snowflake Snowman.
This is the only figure with this mechanism that features a moving mouth, in this case a jaw.
There is an unreleased prototype of this item, which is a cartoonish-looking vampire whose zoot suit was red and held a gold pocket-watch.