Swingin' Skelly (a.k.a Zoot Suit Skeleton) is an animated Halloween decoration made in 2004. He wears a red and black zoot suit with white pinstripes, a white shirt, a tricolored tie, and a black pork pie hat. He swings his hips and a chain of lighted skulls as he moves his mouth as he talks, eyes glowing. The song "Sing Sing Sing" plays as he does so.
This item has a similar mechanism to the Spinning Snowflake Snowman.
This is the only figure with this mechanism that moves his mouth.
There was a prototype of this item. It was a cartoonish vampire who wore a red zoot suit and swung a gold pocketwatch.
There are two different versions of this item: one has a shorter head with more detail, and the other has a longer head with less detail.

00:56

(GMA Re Upload) Gemmy swingin' Skelly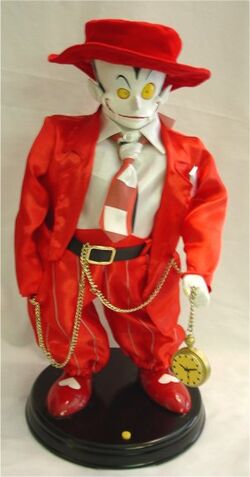 Ad blocker interference detected!
Wikia is a free-to-use site that makes money from advertising. We have a modified experience for viewers using ad blockers

Wikia is not accessible if you've made further modifications. Remove the custom ad blocker rule(s) and the page will load as expected.