This is the animated talking tombstone skeleton made in 2004. He's a skeleton that wears a black robe and has long gray hair. His head and jaw move up and down as he talks and sings "Hot Hot Hot". His eyes also light up.
This item has the same soundtrack as the talking Skeleton groom.
The recording of "Hot Hot Hot" has the monkey noises, which proves it's that of Harry D. Ape's.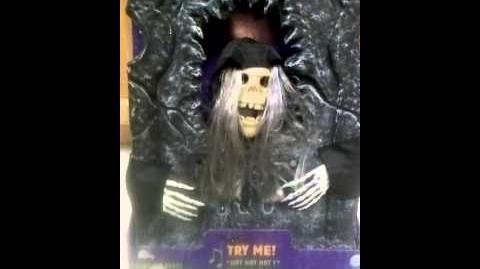 Ad blocker interference detected!
Wikia is a free-to-use site that makes money from advertising. We have a modified experience for viewers using ad blockers

Wikia is not accessible if you've made further modifications. Remove the custom ad blocker rule(s) and the page will load as expected.