The Beagles is a series of 4 animated singing beagle dogs made in 2003. Each one sings a different song by The beatles. The grey one sings "Hard day's night", the brown one sings "Help", the tan one sings "I feel fine" and the light grey one sings "Can't buy me love".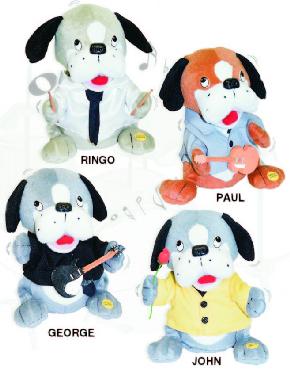 -As indicated by the picture, each beagle bears a resemblance to the 4 band members: Ringo Starr, Paul McCartney, John Lennon and George Harrison.
-"The Beagles" is actually a parody of the world famous 60's band "The Beatles".
Gemmy also did an extra set of Beagles called "Beaglemania" which parodies that of the Beatles album "Beatlemania".
Ad blocker interference detected!
Wikia is a free-to-use site that makes money from advertising. We have a modified experience for viewers using ad blockers

Wikia is not accessible if you've made further modifications. Remove the custom ad blocker rule(s) and the page will load as expected.