The Touchdown Hound is an animated standing plush figure made in 2007. The bulldog wears a sports jersey with the teams color and logo, white pants with stripes on the side, and black shoes. The bulldog shuffles forward and backward while he raises his arms up and down to the song "Get ready for this".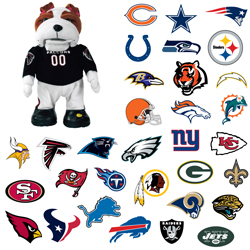 Ad blocker interference detected!
Wikia is a free-to-use site that makes money from advertising. We have a modified experience for viewers using ad blockers

Wikia is not accessible if you've made further modifications. Remove the custom ad blocker rule(s) and the page will load as expected.