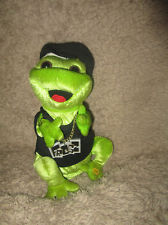 The  
Usher Frogz is an animated plush frog made in 2007. He wears a red hoodie and sunglasses. He twists side to side and moves his head and arms up and down while singing "Yeah". He is mostly popular like the catagorized Hip Hop, Country and Over The Hill frogz.
There is also a red version and also a UK version sold in BHS that does the same movement as In Da Club, Christmas Frogz, and Save A Horse Ride A Cowboy. There is even a giant standing purple version made for Valentines Day 2007 or 2008
Ad blocker interference detected!
Wikia is a free-to-use site that makes money from advertising. We have a modified experience for viewers using ad blockers

Wikia is not accessible if you've made further modifications. Remove the custom ad blocker rule(s) and the page will load as expected.