Wil Critter Cody Jr. is a plush singing toy hamster made in 2002 and is part of the Dancing Hamsters series. He wears a vest and pants with a blue design, a red bandana and a brown coyboy hat. He spins his lasso and moves his head and arms while singing "I wanna be a cowboy".
-This item could possibly be Wild Critter Cody's remake model, since it has the same name, with the addion of "Jr" in it.
-The version of this item made by Funtime Gifts sings "Rawhide" insted of "I wanna be a cowboy" like Gemmy's version.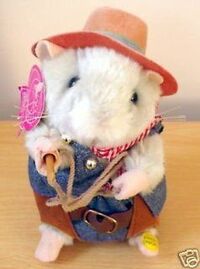 Ad blocker interference detected!
Wikia is a free-to-use site that makes money from advertising. We have a modified experience for viewers using ad blockers

Wikia is not accessible if you've made further modifications. Remove the custom ad blocker rule(s) and the page will load as expected.