Zultan is an animated Halloween prop made in 2005-2007. The button is red and glows continuously. When activated, the purple curtains open, revealing Zulan and his crystal ball skull as the sound of a gong is played. Then, Zultan's eyes will glow bright as he moves his head and mouth and greets you. Then, the skull's eyes light up as he moves his mouth as he says a fortune.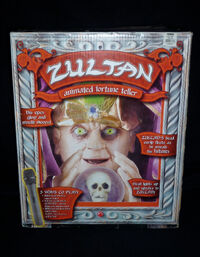 -This prop is based off the classic "Zoltar" prop from the movie "BIG".
-The skull model used for the crystal ball is actually the same model used for the Grave ravers skeleton.
-This item is similar to the Spirit Ball  Halloween prop.
Ad blocker interference detected!
Wikia is a free-to-use site that makes money from advertising. We have a modified experience for viewers using ad blockers

Wikia is not accessible if you've made further modifications. Remove the custom ad blocker rule(s) and the page will load as expected.